Massey Ferguson Tractors for Sale in Zimbabwe
Model / Type: Massey Ferguson MF 240 Horse Power: 50hp Transmission: Manual Engine: 2.5D Condition: Brand New

Read more
TRACTORS FOR SALE
Why Massey Ferguson Tractors ?
For an unmatched and exceptional farming experience, Massey Ferguson tractors are the most reliable option in all of Zimbabwe. Zimbabwe's farmers now have the incredible opportunity to get their hands on the most demanded tractor brand in Zimbabwe for a chance at modern farming, leading to abundant yields.
Massey Ferguson tractors are a popular choice among African farmers due to their reliability, durability, versatility, and efficiency. These are extensively used in agriculture around the world as they ensure optimum performance and higher productivity. The advanced technology Massey Ferguson engines meet the Tier 4 interim emission standards ensuring eco-friendliness, which is a plus point.
Brand New Massey Ferguson Tractors for Sale in Zimbabwe
We have a variety of Massey Ferguson tractor models like MF-240 50hp, MF-260 60hp, MF-360 60hp with Hydrostatic power steering, MF-375 75hp, MF-385 85hp, Mf-385 4WD 85hp in 2WD and 4WD to suit the needs of our valued customers. By getting in touch with us, we guarantee you the utmost customer satisfaction, no hidden charges, economical prices, and timely delivery. Contact us today for your very own tailored farming experience.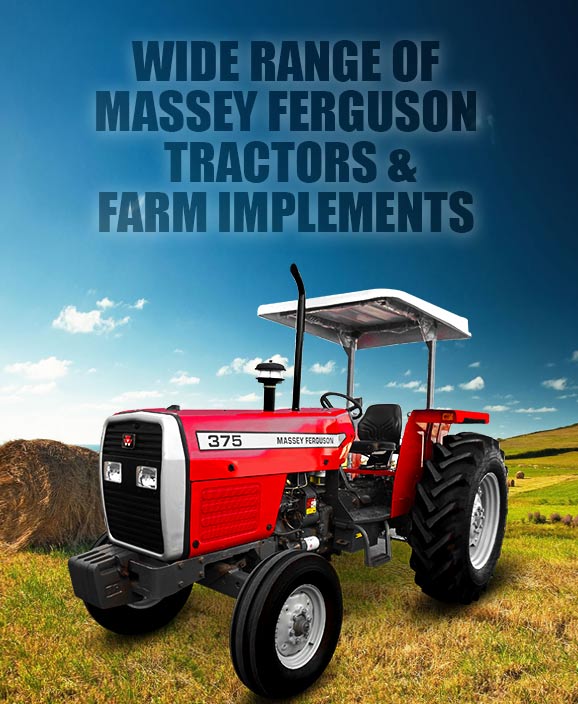 Farm Implements for Sale in Zimbabwe
Why Choose Farm Implemnets ?
Pintle Hook Specification Weight: 39 kg , 50kg Power required: 50hp above. Asperiores, voluptatem perspiciatis.

Read more

Agricultural Loader Specification Bucket Size 60″~66″ Lifting Height Max 132″ Control Valve 45ltr 2 Spool Valve Hose Pipe 6000PSl, Double Breaded Sleeve Steel Tube honed Rod Hard Chromed Carbon Steel Pump Tractor Pump Cylinder 4 (60mmx40mm) Seal V Type

Read more

Bed shape Planter Specification FRAME: 50X50X6M BOX HITCH: 75X36X6MM LENGTH: 1520MM HEIGHT: 2240MM WIDTH: 2240MM APPROX WEIGHT: 470KGS

Read more

Boom Sprayer Specification Operation Tractor – hydraulic and PTO driven CAPACITY: 500l – 1000L LENGTH: UPTO 10M Nozzle type: Teejet/conical

Read more

Border Disc Specification Disc tilt Adjustable Width Adjustable Attachment 3 point linkage Tractor compatibility 50 HP and above

Read more

Chisel Plough Specification No Of Tines 2-5 Total Width 1570 mm Linkage Capacity: I &II Max Working Depth: 22-25cm Weight: 225-360Kg. Tractor Compatibility: 50HP Onwards

Read more

Cotton Ridger Specification Power Source 60-70 HP Tractors. No. of Tines 9 Nos. Type Hydraulic Overall Length 90 inch Overall Height 43 inch Overall Width 36 inch Overall Length (max) 80 inch

Read more

Disc Plough Specification Available from 2-5 discs WEIGHT 550 WORKING WIDHTH 990MM WORKING DEPTH 250MM HEIGHT 1235MMh LENGTH 2130MM POWER REQUIRE 85HP ONWARDS

Read more

Specifications Working Width 145 cm – 167 cm Discs size 61 cm Weight 685 Kg No's of discs available 12, 14, 16, 18, 20

Read more

Farm Trailer Specification Tractor Compatibility: Above 50hp Size: 13'X6'X2' Axle Size: 4-1/2"X3/8" NO OF TIRES 2 to 4 WEIGHT 1000 – 1400 KGS

Read more

Farm Trolley Specification Tractor Compatibility: Above 50hp Size: 13'X6'X2' Axle Size: 4-1/2"X3/8" NO OF TIRES 2 to 4 WEIGHT 1000 – 1400 KGS

Read more

Fertilizer Spreader Specification Attachment 3 Point Linkage system Capacity 250Kgs – 1000kGs Working Width 14m – 18m

Read more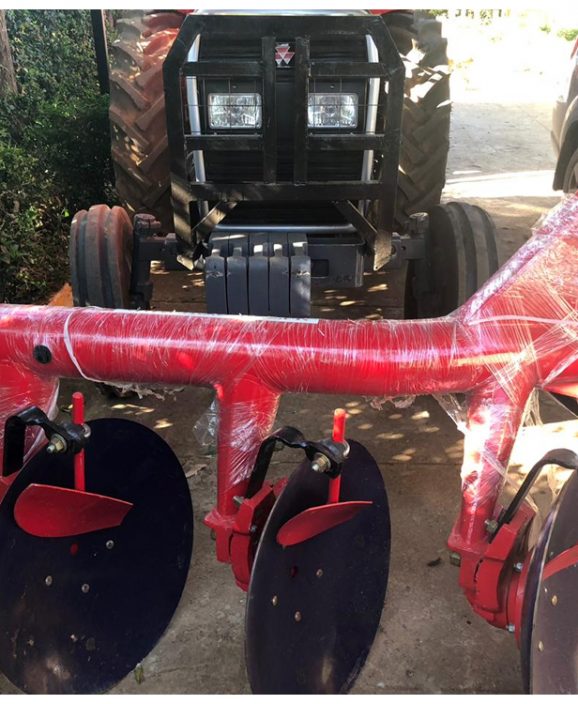 MODERN FARM EQUIPMENTS
Tractor Implements
Massey Ferguson Zimbabwe deals in an abundant variety of farm implements that can either be mounted to your Massey Ferguson tractors or used separately for an effortless farming experience. Our wide range of tractor implements means that there is something for everyone, be it a smallholder farm, or a large-scale commercial farm in Zimbabwe.
Our farm implements are used extensively in diverse day-to-day tasks such as tilling, harvesting, ploughing, maintaining land, etc. These account for a hassle-free and efficient agricultural experience. The usage of farm implements in recent years has considerably minimized the need for manual labor, resulting in a significant cut-down in costs. The maintenance costs of these implements are also quite low, which is definitely a plus.
In order to get your hands on our high-quality farming implements at competitive prices, contact us today and our sales representatives in Zimbabwe will get in touch with you.
Testimonials
Testimonials
Massey Ferguson Zimbabwe is the No:1 Choice of Farmers in Zimbabwe due to quality and reliable services in the farming business in Zimbabwe. Their shipping of Agricultural Tractors and Farm Implements is fast, on-time, and secure. I would like to recommend Massey Ferguson Zimbabwe if you are interested to buy tractors like Massey Ferguson and New Holland tractors in Zimbabwe.

Clever Masiyiwa

Creative Heads Ltd
I turned into very amazed by the quality of the tractor of Massey Ferguson Zimbabwe, and I will buy tractors and farm implements from you constantly and am very much satisfied and thankful to your company in Zimbabwe.

Paul Staak

Creative Heads Ltd
Massey Ferguson Zimbabwe, Number one tractor dealer in Zimbabwe, If you would like to buy new tractors or farm Implements. They deliver tractors all around the world from Pakistan. 24 hours customer support before and after delivery of tractor. They will beat the price if someone offers a better price than Massey Ferguson Zimbabwe. If you are looking to buy a brand new Massey Ferguson tractor and farm implements from Pakistan than Massey Ferguson Zimbabwe is the best company you should buy from them.

Alex Dando

CTO - B Company